College possesses good infrastructure to facilitate the teaching learning process. All the classrooms are equipped with multimedia teaching
aids like OHP, LCD Projectors.


Sophisticated Labs with high end equipment for Physics, Chemistry, C Programming and English Communication are available. Mechanical
and IT Workshops are established. In the campus all the computers are connected with Internet of high bandwidth.


Students avail communication lab facility to improve language skills.
LABORATORIES @ DEPARTMENT
ENGLISH
LANGUAGE LAB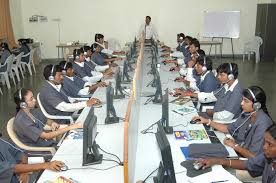 The Isolated Computer lab is allocated for English Communication with Licensed software in all the systems and head phones. The Language Lab provides a platform in which the students acquire the competency and command over English Language. It also improves their Communication Skills, Soft Skills, Presentation Skills, Phonetics and Grammar. The lab enables students to appear for an interview and make them face the global needs and challenges. Training is given to the students to develop their personality and career. The lab gives the students not only the knowledge in various aspects of communication skills but also helps them to gain self confidence and to overcome the fear of speaking in public.
ELECTRONICS

AND ELECTRICAL LABS
The department has well qualified, senior and dynamic staff. The department has following laboratory facilities:
Electronic Circuits
Analysis Lab
Electronic Devices &
Circuits Lab
IC Application Lab
Microprocessor &
Microcontroller Lab
Digital Signal Processing Lab
Analog Communication Lab
Basic Electrical Engineering Lab
Electrical Machines Lab
All this laboratories are well equipped and well furnished. The computers in the simulation lab are with latest specification, connected to LAN and with the MATLAB, TASM, Protel softwares. Laboratories have some special equipment like Spectrum Analyze and Logic Analyzer. The Department conducts various programs on Embedded Systems, VLSI, C++ for upgrading the knowledge of students. A large number of technical papers have been presented by staff and students every year.
PHYSICS

AND CHEMISTRY LABORATORIES

Physics and Chemistry Laboratories are well ventilated and fully equipped full filling curricular requirements. These Laboratories promote the learning and understanding the fundamentals and engineering applications of Physics and Chemistry with the relevant resources. The students experiment with the latest technologies which help them in kindling their talent and skills.

ENGINEERING

WORK SHOP

The college has Basic Engineering and Mechanical workshops with Tools for cutting, Carpentry and welding jobs. Lathes, milling and slotting machines are provided. Electrical Panel boards are provided for Electrical experiments.

TRANSPORT

The college has a fleet of 14 buses to transport students and staff from various parts of the city and its neighborhood areas to the college and back home to enable students to be punctual at the college. The transport facility for the staff is free of cost.
APRTC and local train Facilities are also available. The nearest MMTS railway station is Falaknuma, 2 km from the college.

| | |
| --- | --- |
| Location | APSRTC Bus Route No. |
| Koti | 251,102A |
| Uppal | 300 |
| Secuderabad | 90 / 251B |
| Charminar | 178 |

COMPUTER

LABS

The Computer lab has been accommodated with high end configuration systems. All the systems are Pentium icore processor and server connected. The licensed software's for MSDN from Microsoft and Turbo C++ for Programming lab and IT Workshop have been procured. All terminals have high speed broadband internet facility.

LIBRARY
The college has fully automated library with 2983 volumes and 15 periodicals. A number of audio tutorials are also available. The students can access 10 multimedia terminals for utilizing the digital library facility provided by AICTE-INDEST and E-Journals.
Total No. of Volumes :

2983



Total No. of Titles :

850



Total No. of periodicals :

15

| | | |
| --- | --- | --- |
| S.No | Branch | Total No. of Volumes |
| 1 | CSE &IT | 1000 |
| 2 | ECE | 400 |
| 3 | EEE | 450 |
| 4. | Mechanical | 550 |
| 5 | H&S | 583 |
Route Map
Distance from various important locations in city

| | | |
| --- | --- | --- |
| 1 | P.V Narasimha Rao Express way | 2 km |
| 2 | Chandrayan Gutta | 2 km |
| 3 | Charminar | 6 km |
| 4 | L.B Nagar | 11 km |
| 5 | Koti | 11 km |
| 6 | Mehdipatnam | 11 km |